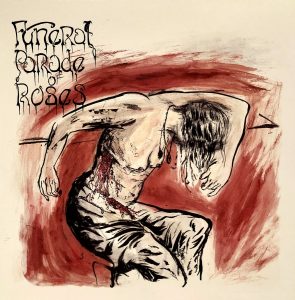 Around 2018 or so, I had the idea that I wanted to step back from the multimedia project Auton as my primary outlet for songwriting and production.  While I am still continuing work as Auton and enjoy participating in that project, I felt constrained by the somewhat "impersonal" subject matter which is concerned largely with exploring moments of mass rupture – often doomed to counterinsurgency and recuperation – and what they mean decades later on. I felt as though it has very little to do with my daily life, the type of mundane grind which is more frequently escaped in personal engagement with art, literature, poetry, film, etc.  My immediate desire to have an outlet for exploring themes and motifs beyond those which I felt able to explore in Auton (or DJing for that matter) led to a project with different rules, tone, etc – one where the music, visual art and text is grounded primarily within myself, not some abstraction of identity or historical occurrence.
What resulted is the project Funeral Parade Of Roses, the first LP of which has been released by artist-run multimedia label Lost Soul Enterprises ,  Although this project is – as mentioned –  a sort of egoist meditation on self-negation and identity, I would be remiss to not give credit to the source upon which the project is named  – Toshio Matsumoto's 1969 movie "Funeral Parade Of Roses" similarly explores themes upon which my referential project is intended to explore.  I encourage everyone to watch the film, which is available via archive.org if not accessible elsewhere.
This self-titled LP contains four tracks, all of which are meant to serve as audio accompaniment to four sections of stream-of-consciousness poetic verse contained in the accompanying booklet. The sonic palette is awash with dour industrial soundscapes, plundered and de/re/composed samples, and rhythms ranging from deep machinic throb to frenetic recut breakbeats.  The text is a meditation on themes of desire, abjection, the utopian project, religious and secular forms of eschatology, the traumatic bonds forged in the margins of society, and a self-negating anarchic individualism that borders on the search for something spiritual and/or meaningful.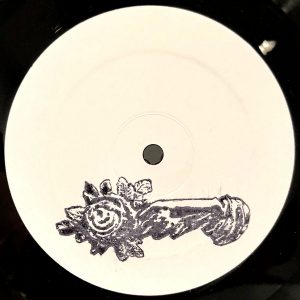 Honestly, it's the most vulnerable I have felt releasing music and text – and yet while proud of the work I have put forth – I recognize that this type of vulnerability and experimentation is rarely regarded carefully by society writ large.  I am content, however, to be speaking to a much smaller audience intentionally – one which is willing to engage with these themes and artistic decisions on their merit as part of a greater project as opposed to a collection of "products' which can exist outside of their context or in a vacuum.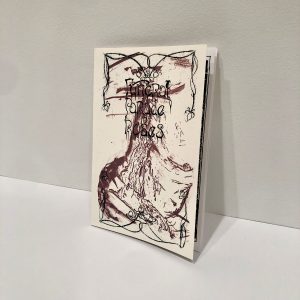 I am deeply indebted to my friend Priscilla Genet, whose skillful illustrations adorn every element of this physical release.  Her work on the project Organ Bank and in various self-published underground comics is a testament to her range and visceral style – one whose own visual aesthetics so naturally suits this release and its themes.  This release would not be the same  – or indeed, even quite possible – without her collaboration and hours spent working.
I am also deeply thankful for the engineering and mastering job done by Alex Michalski, whose careful advice enabled the project to be possible and legible and heard as-intended.  Dietrich Schoenemann cut these dubplates and the records were pressed at Archer in Detroit.  The zines were printed by Outlandish Press in Cleveland Ohio.  Richard Gamble had the thankless job of assembling, stamping center labels, and packaging everything – and has done an incredible job placing time, love and faith into this project.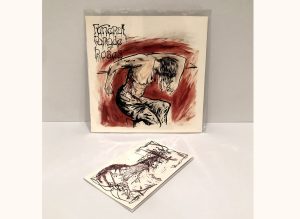 This LP and Zine is limited to 200 copies, and is available here
You may check out samples of the four audio tracks via the Lost Soul Enterprises soundcloud: